Hallow's Lent Pray40 Community Prayer Challenge for 2023: Imitation of Christ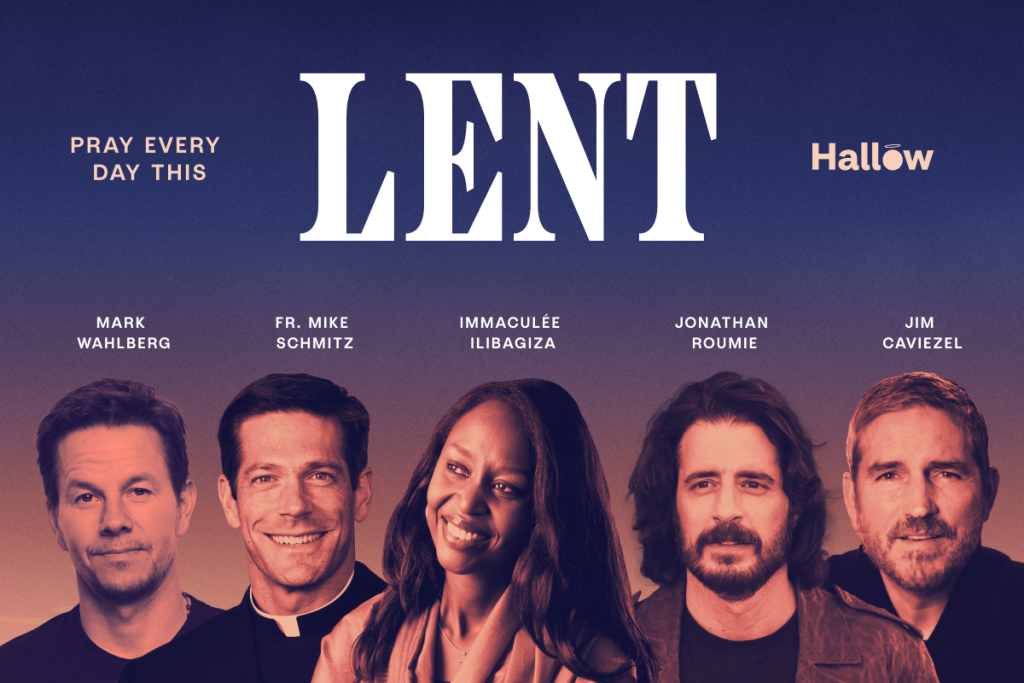 Help spread the word and share
For forty days, He walked through the desert.
Thirsty, hungry, tired, and tempted by the devil.
And He continued His walk all the way to His loving sacrifice for us on the cross.
A sacrifice for each and every one of us.
Together, as one community from all over the world, we'll pray for 40 days leading up to His crucifixion and resurrection on Easter Sunday. We'll journey through the life-changing spiritual classic the Imitation of Christ and focus our prayer and meditation on the three pillars of Lent: prayer, fasting, and giving.
"Take courage, friends. Let us go on together. Jesus will be with us. For Him we have picked up the cross; for His sake let us continue on." (Imitation of Christ)
Pray40 – Hallow's Lent Challenge for 2023
For Lent in 2023, Hallow invites you to join the Pray40 Lent Challenge, offered in English, Spanish, Portuguese, and Polish. You'll learn to imitate Christ in your daily life alongside hundreds of thousands of Christians worldwide in prayer this Lent. Choose to walk alongside Christ this Lent and:
Meditate on the Imitation of Christ, spending forty days alongside Jesus following His Way
Develop greater discipline through fasting
Learn to place your trust in His mercy and love for you
Grow in humility through silent and devotional prayer
Reflect on Scripture, the Corporal Works of Mercy, and the Stations of the Cross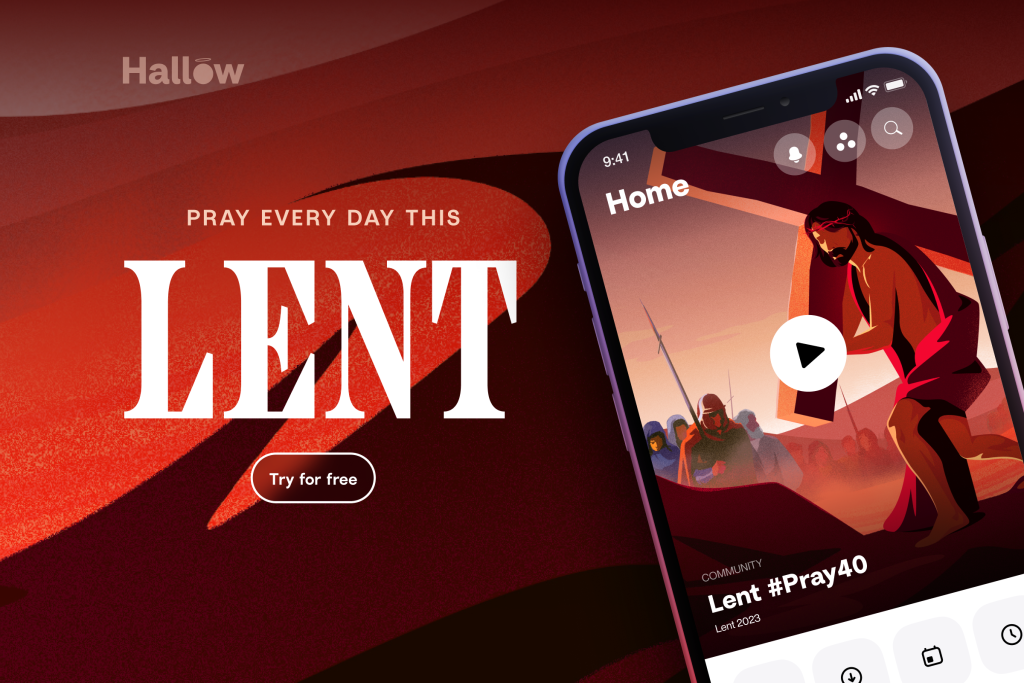 Walk beside Jesus
Draw closer to Jesus than you ever have before through 40 days of prayer on Hallow. This Lent, exclusively on Hallow, you'll be led in prayer by several world-famous Christians, including:
Mark Wahlberg, Academy Award-winning actor and lead in the standout film Fr. Stu based on the life of Fr. Stuart Long
Jonathan Roumie, who plays Jesus in the hit streaming series The Chosen
Jim Caviezel, who portrayed Jesus in the highest-grossing independent film of all time, The Passion of the Christ
Fr. Mike Schmitz, host of the #1 Christian podcast, Bible in a Year
Immaculée Ilibagiza, Rwandan genocide survivor and best-selling author of Left to Tell: Discovering God Amidst the Rwandan Holocaust
And, we'll conclude every week of Pray40 with a meditation and lesson on giving from an amazing religious sister!
In Spanish, Pray40 2023 is led by actor Eduardo Versatgui, and in Portuguese, actor Juliano Cazarré.
The Imitation of Christ
Imitation of Christ, written by Thomas á Kempis in the early fifteenth century, is the second most widely-read Christian book of all time, behind only the Bible.
Originally written as a guide for monks, this spiritual classic is one of the most popular and timeless guides for anyone on a spiritual journey toward Christ. Focusing on humility, discipline, and love, this book, above all, seeks to help us imitate Jesus in our daily lives – to place ourselves in the desert and at the foot of the cross. As the "little flower," St. Thérèse of Lisieux once wrote,
"For a long time I had nourished my spiritual life with the 'fine flour' contained in The Imitation of Christ. It was the only book which did me good, for I had not yet found the treasures hidden in the Holy Gospels. I always had it with me, to the amusement of my people at home."
Throughout Lent, we'll focus our prayer and meditation on the themes presented in the Sunday Gospels each week: humility, resisting temptation & perseverance, the glory of God, prayer, and surrender. And we'll reflect deeply on the final moments of Christ's life in meditation on the Stations of the Cross in the final weeks of Pray40.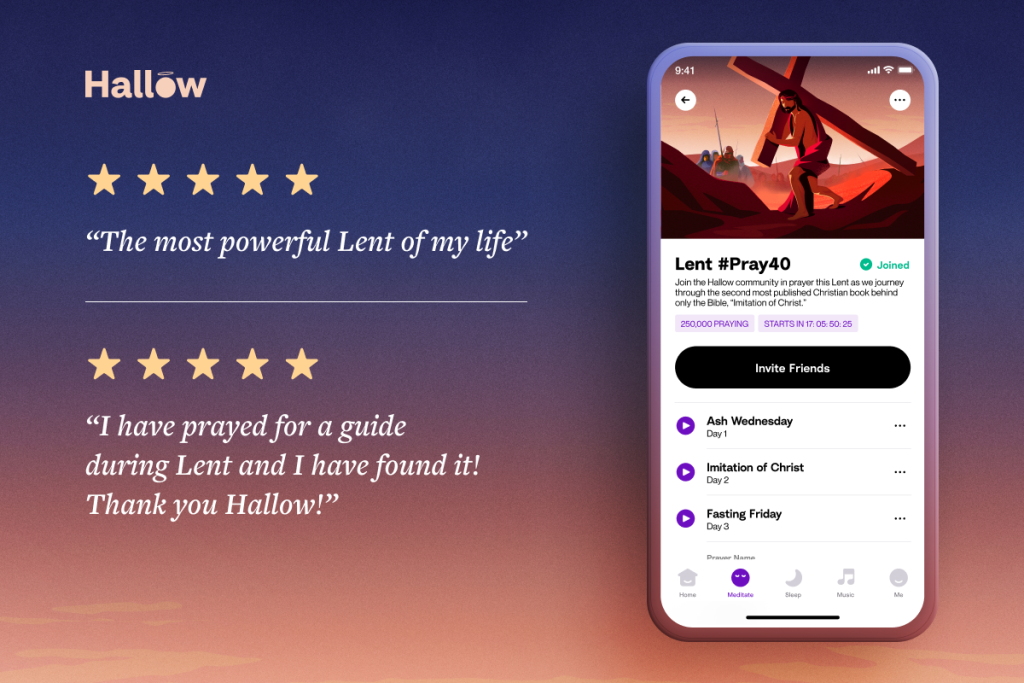 Weekly Schedule: Pray40
Sunday
Homilies with Fr. Mike Schmitz
Monday
Meditation on Imitation of Christ with Jonathan Roumie and Jim Caviezel
Tuesday
Devotional Prayer with Immaculée Ilibagiza
Wednesday
Meditation on Imitation of Christ with Jonathan Roumie and Jim Caviezel
Thursday
Extended Silent Prayer with Jonathan Roumie and Jim Caviezel
Friday
Fasting Motivation and Challenge with Mark Wahlberg
Saturday
Reflection and Lesson on the Corporal Works of Mercy with a religious sister
SEE MORE: Lent Prayers for 2023 | What to Give Up for Lent | Ash Wednesday 2023 | Where to Get Ashes | Divine Mercy Chaplet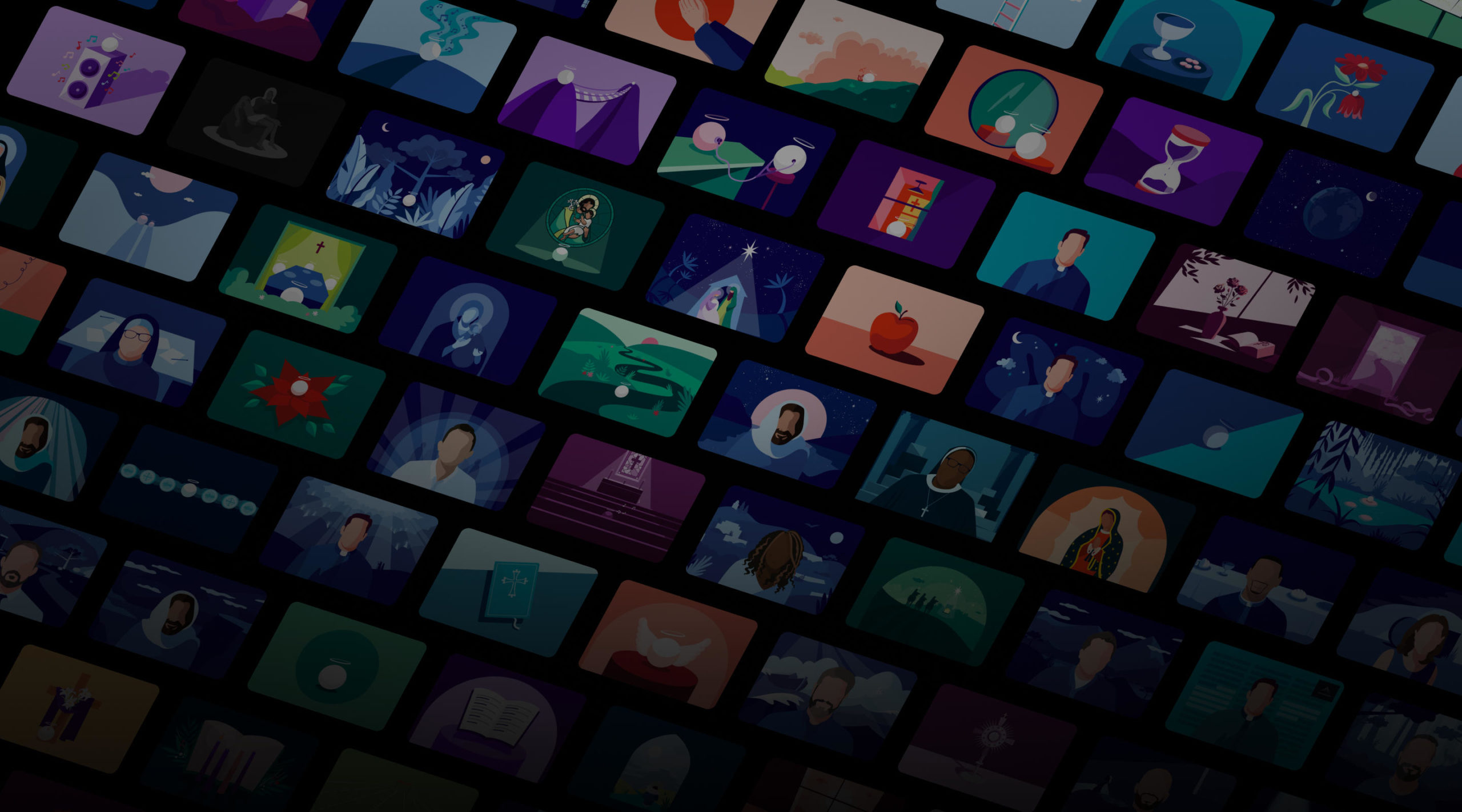 Join the #Pray40 Lent Community Challenge