We are incredibly excited to announce that you can now listen to the Bible in a Year podcast with Fr. Mike Schmitz on Hallow.
In this first-of-its-kind partnership, Hallow has teamed up with Ascension Press, the creators and producers of Bible in a Year, to make the podcast available on Hallow.
Launched on January 1, 2021, it has quickly reached #1 on the Apple Podcast charts GLOBALLY.
About the Podcast
Bible in a Year takes you on a 365 day journey through the entire Bible.
Each day features a 20-25 minute episode where Fr. Mike reads a passage from the Bible, shares a brief reflection, and guides you into a Lectio Divina meditation on the passage.
In 365 days, you will not only get to read the entire Catholic Bible, cover to cover, but actually understand how it all fits together. PLUS you will be able to pray through the whole thing.
One of the unique and beautiful parts of this study is that Fr. Mike uses the timeline from The Great Adventure Bible. This timeline was developed by Jeff Cavins and is designed to help you better understand salvation history in an easily digestible format. Be on the lookout for Jeff in a number of bonus episodes throughout the podcast.
While listening along on Hallow, you can opt-in to receive the Bible reading plan and follow along in The Great Adventure Bible from Ascension.
Oh – and it's totally free.
Commit to growing deeper in your relationship with God through daily reading and reflections on His Word. Join us in listening to the Bible in a Year on Hallow!
Benefits of listening on Hallow
One of the benefits of listening to the Bible in a Year podcast on Hallow is that you can integrate your Bible study into your overall prayer routine. With Hallow, you can set weekly prayer goals and receive custom prayer reminders throughout the day.
After listening to each session, you have the ability to take notes in your Hallow prayer journal, which you can refer back to later. You can also post these reflections to your Hallow family groups, sharing your faith journey with your friends, family, and/or Bible study group.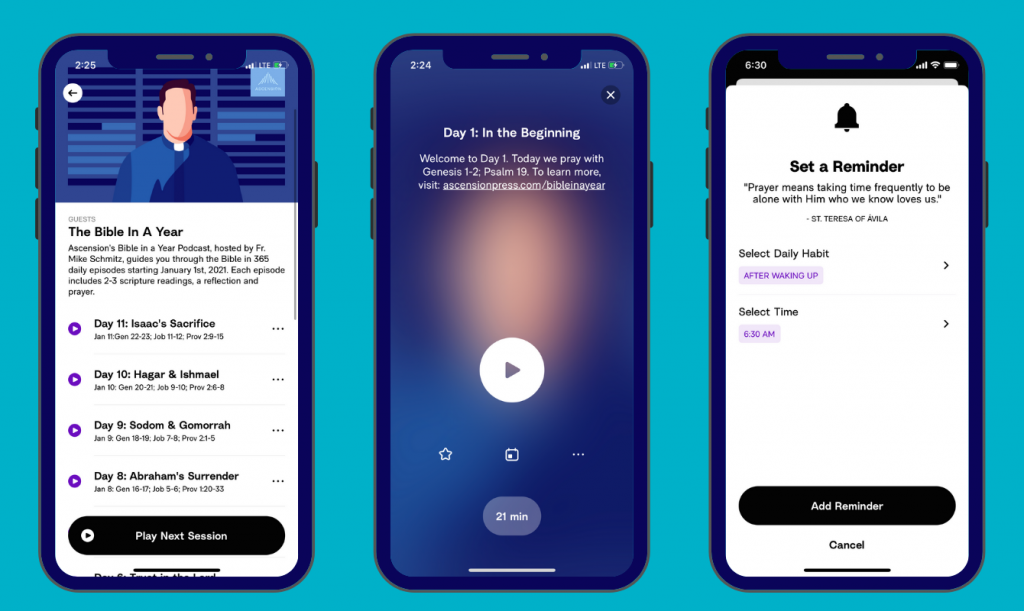 You can also customize your experience with all of your favorite Hallow background music options including light piano, nature sounds, ocean waves, various chants, and more.
Lastly, praying on Hallow can count toward your Mindful Minutes within your Apple Health profile on iPhone. For help syncing Hallow with your Apple Health profile, you can reach out to support@hallow.app.
All of this customization and more is part of Hallow's permanently free content and functionality.
About our host, Fr. Mike Schmitz
Fr. Mike Schmitz serves as Director of Youth and Young Adult Ministry for the Diocese of Duluth and as chaplain for the Newman Catholic Campus Ministry at the University of Minnesota-Duluth. He is a presenter in Ascension's Chosen, Altaration, and The 99 programs, and has a channel on Ascension Presents.
More From Fr. Mike on Hallow
In 2023, Hallow welcomed Fr. Mike's Catechism in a Year to the app.
Hallow also is proud to have partnered directly with Fr. Mike Schmitz to read Bible Stories focused on helping you prepare for bed by unwinding at the end of the day with Scripture.
Separate from the Bible in a Year podcast episodes, these sessions are pure prayer and are focused on helping you find peace in God.
You can also listen to Fr. Mike's Sunday homilies within Hallow's Guest section.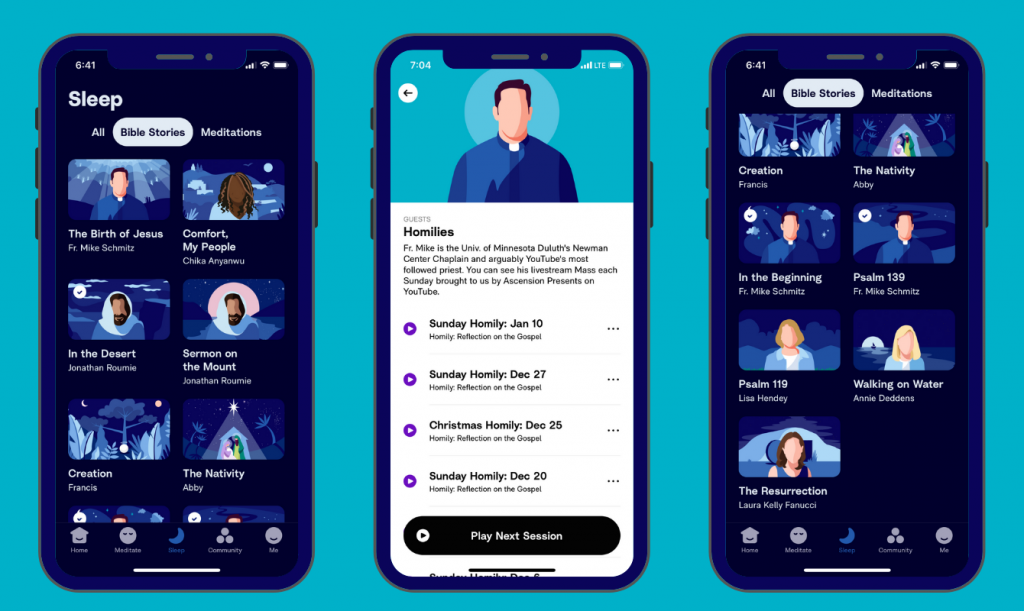 More From Hallow
Hallow is the #1 Catholic app in the US & Canada and is focused on helping users deepen their relationship with God through audio-guided contemplative prayer and meditation. With 1, 5, 10, 15, 30, and 60 minute options, Hallow has a prayer routine that works for every schedule.
The app has 700+ sessions including daily favorites like meditations on the daily Gospel, the Rosary, and the Divine Mercy Chaplet; "Praylists" focused on themes like love, joy, hope, humility, gratitude, and forgiveness; Minute Meditations for quick breaks throughout the day; curated and original music ranging from traditional chant to contemporary worship; and much more.
For more on Hallow's content and features, you can visit our homepage.
More Prayer Resources