A Holy Hour is a devotion in which we spend one hour in prayer, dedicating that time to be with Jesus.
What is a Holy Hour?
Origin
The Holy Hour tradition officially goes back to 1674 when Christ appeared to St. Margaret Mary Alacoque multiple times over a 13 month period. Christ's appearances to this saint emphasized his human heart – how he loves as both human and divine. Christ instructed Alacoque to spend an hour every Thursday evening meditating on His sufferings in the Garden of Gethsemane.
I am deeply grieved, even to death; remain here, and stay awake with me.

Matthew 26:36
In the Gospel of Matthew, we learn that Jesus and his disciples went to Gethsemane after the Last Supper. He shared his suffering and grief with them, knowing of His crucifixion the next day. So, Jesus went to pray, but He asked His disciples to stay awake with Him. When he returned, however, He found the disciples asleep. "So, could you not stay awake with me one hour?" (Mt 26:40).
When we make a Holy Hour, we remain and stay awake with Jesus. It's a powerful and beautiful way to grow closer to Him. Holy Hours are commonly done in Adoration of the Blessed Sacrament, but you could make a Holy Hour at any time: in a church, your home, or even outside in nature.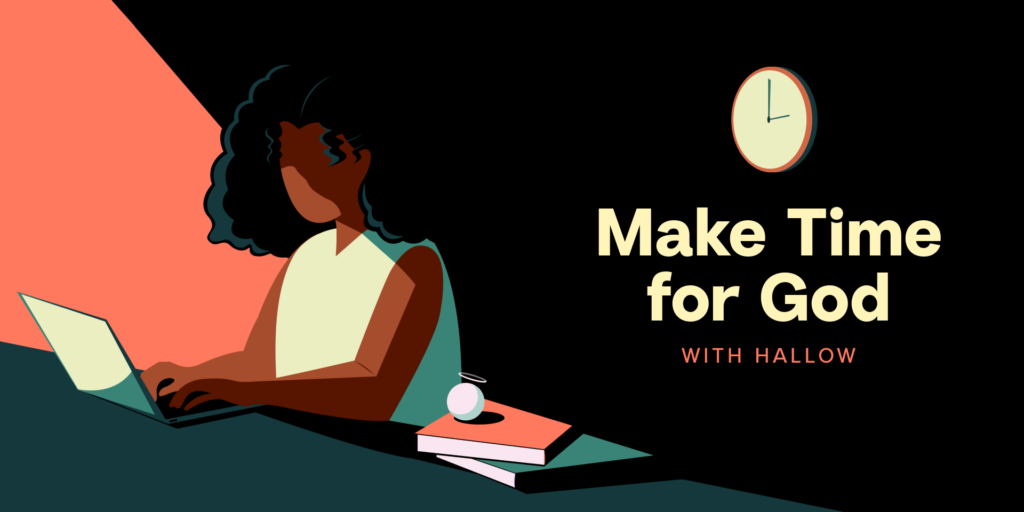 Why make a Holy Hour in prayer?
To put it simply, we make a Holy Hour to be present with God. When Christ was in agony in Gethsemane, he turned to prayer. In our own agony, suffering, or even gratitude, we can also turn to prayer as Christ did. In his book, Treasure in Clay, the Venerable Fulton J. Sheen writes,
I keep up the Holy Hour to grow more into his likeness … We become like that which we gaze upon. Looking into a sunset, the face takes on a golden glow. Looking at the Eucharistic Lord for an hour transforms the heart in a mysterious way as the face of Moses was transformed after his companionship with God on the mountain.

Venerable Fulton J. Sheen
In this passage, Sheen refers to God's appearance to Moses at the burning bush. He reminds us that prayer is like talking with God face-to-face, just like God did with Moses on Mount Sinai. The same goes for our time in a Holy Hour. Even if we aren't in Eucharistic Adoration, we hope that the Holy Spirit will lead us to meet God face-to-face during this time in prayer.
When do we make a Holy Hour?
You can make a Holy Hour anytime, anywhere. While traditionally Holy Hours have been made in Adoration, you don't need to be in the presence of the Eucharist to pray for a full hour. The most important part of making a Holy Hour is preparing yourself to spend the full hour with God. You might have to wake up early, stay up late, or you could even use your lunch break to make a Holy Hour — whatever you choose, make sure you're setting yourself up for a peaceful sixty minutes of meditation with God.
How to Pray: Holy Hour
There are many ways to pray a Holy Hour! You might read Scripture, listen to worship music, journal, or you might simply sit and talk with God, Or you can pray with a combination of all the above. Below we've written out the outline we use for the Holy Hours on Hallow as a guide:
0-8 Minutes: Enter into Prayer
Get comfortable and begin your prayer. We like to begin with some deep breathing to settle our hearts and minds. In Hallow, we pray a short prayer here to collect ourselves with, such as "Come, Holy Spirit," a Psalm, or the Lord's Prayer.
8-18 minutes: Adoration
Next, spend ten minutes simply adoring God. If you're praying before the Blessed Sacrament, gaze at Jesus and let Him gaze back at you. Rest in wonder at who God is and how He invites you to know Him.
18-25 minutes: Contrition
Spend a few minutes asking the Holy Spirit to reveal where you have fallen short and where you might need to ask for God's mercy. Resolve to go to Confession as soon as you're able.
25-45 minutes: Contemplation
This is the core of the Holy Hour – time spent in contemplation of God. In this part of your prayer, you can sit in silence. Other ways or prayer you'll find in the Hallow App are meditating on the Rosary, praying with Scripture through Lectio Divina, the Stations of the Cross, and we also have a few led meditations; our current favorite is meditating on the questions Jesus asks throughout the Gospels.
45-50 minutes: Thanksgiving
Spend some time thanking God for the gifts in your life. This might be something big, such as a new friendship or job, or it might be something small, like your coffee in the morning or the nice walk you took yesterday afternoon.
50-55 minutes: Petition
Turn to God with the cares and concerns of your heart, those close to you, and all the needs of people throughout the world. Entrust everything to God.
55-60: Closing
We keep these last few minutes open for you to say any last things to God and make a resolution that came out of your prayer: how is God calling you to act, think, change, pray? What can you take away from this time spent with Him? Then close your time in prayer with an Our Father or any prayer that is on your heart.
---
Hallow offers 8 different Holy Hour (a full sixty minutes in the app) prayers and meditations in the Holy Hour Praylist:
Words of Jesus (Scripture)
Be still (Psalms)
I Will Be With You (Scripture)
Instrumental Prayer (Music)
Sit With Jesus (Meditation)
Bread of Life (Lectio Divina)
Joyful Mysteries (The Rosary)
Way of the Cross (Stations of the Cross)
Download Hallow today to pray with these Holy Hour meditations (and so much more) with a 14-day free trial!
We hope these prayers will help guide you through this beautiful devotion to Christ.
More Prayer Resources