Check out the new 2022 Ultimate Catholic Gift Guide for Advent and Christmas!

On entering the house, they saw the child with Mary his mother; and they knelt down and paid him homage. Then, opening their treasure chests, they offered him gifts of gold, frankincense, and myrrh.

Matthew 2:11
The tradition of gift-giving
Advent is a season of waiting, preparation, and prayer for the coming of Jesus on December 25. It is also a season of giving and receiving gifts among our loved ones. This gift-giving tradition goes back to the Nativity, a few days after Christ was born. The three wise men followed the bright Star of Bethlehem to meet the baby Jesus in Bethlehem. Known as King Balthasar (from Arabia), King Melchior (from Persia), and King Gaspar (from India), they brought Jesus gifts of gold, frankincense, and myrrh and recognized Him as the Son of God.
Nowadays, we give gifts to our loved ones during Christmas in imitation of the three wise men. It's a beautiful opportunity to be thoughtful and gracious to recognize Christ in your neighbors, family members, friends, or even a stranger.
Finding a perfect Catholic gift
Giving a faith-based gift is a great way to show your love and gratitude for the people in your life this Christmas. We put together a list of 10 brands offering great Catholic gifts to give this season for the many kinds of people in your life.
Top 10 Catholic gift ideas for Advent & Christmas 2021
1. Prayer & meditation
Hallow App
Hallow is the #1 Catholic Meditation, Prayer & Sleep App. With over 500 sessions in meditation, prayer, and music, there's something for everyone, at any point in their faith journey, on Hallow. Gifting a Hallow digital subscription helps you avoid shipping speeds and backorder products if you're late to Christmas shopping this year, too! You can give a friend or family member a 3-month or 1-year Hallow subscription this Christmas.
If you're looking to give a physical gift related to Hallow, check out the Hallow Merch page!
2. Apparel
Saint socks from Sock Religious
Give your friend or prayer buddy socks with their favorite Saint on them this Christmas! You can find something for everyone in your life from Sock Religious, owned by couple Scott and Elizabeth Williams. We especially love the St. Francis of Assisi Socks, St. Thérèse of Lisieux Socks, and Sacred Heart Socks.
T-Shirt from Brick House in the City
Brick House and the City sells Catholic T-Shirts for women, men, and children. We also love their St. Teresa of Ávila-inspired apron, embroidered with her famous quote: "God walks among the pots and the pans."
Hallow Sweatshirt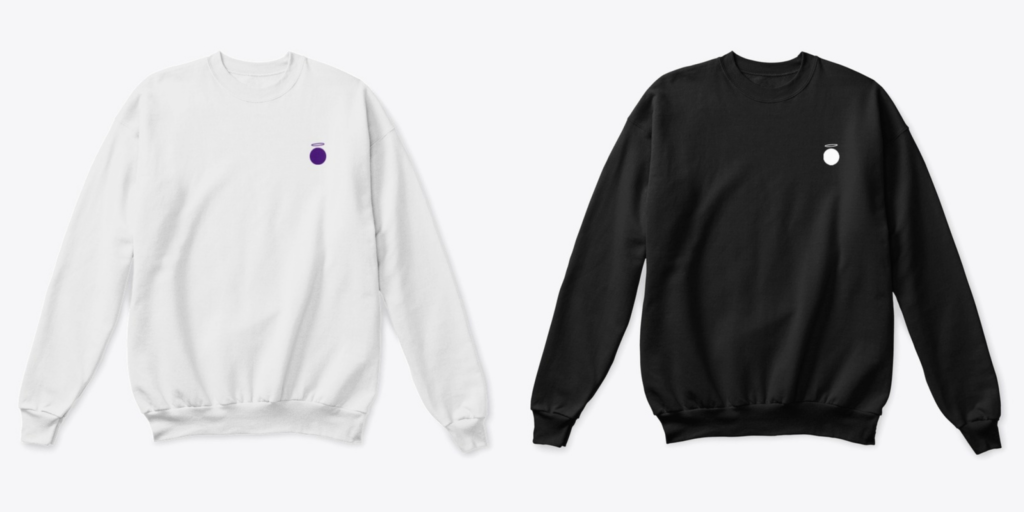 The Hallow crewneck sweatshirts are perfect for the Hallow App user in your life!
3. Coffee
Coffee beans from Guadalupe Roastery
Guadalupe Roastery is fair trade, sustainable, and dedicated to empowering coffee farmers and their families. It's perfect for the coffee drinker in your life, or you can purchase several bags for your neighbors this Christmas. You can buy bags individually or set up a weekly coffee subscription.
"Good Morning From God Coffee Mug" from The Catholic Company
You can also check out The Catholic Company's Top 100 Catholic Gifts page for more gift ideas!
4. Make a donation
Mary's Meals
You can also opt to donate in someone's name rather than purchasing a gift this Christmas! Hallow is giving $1 to Mary's Meals for each person that joins the Advent Challenge. $21 is all it takes for Mary's Meals to feed a child for an entire year.
5. Catholic art
Prints from Be A Heart Design
Be A Heart creates beautiful prints on eggshell paper or for download online. In the spirit of Advent, we recommend gifting the Annunciation print or the St. Andrew Christmas Novena print. The Come, Holy Spirit digital download is also a great gift if you're in a time pinch!
Christmas cards from Santa Clara Design
Santa Clara Design's mission is to "create sacred space in your every day." Purchase a pack of their beautiful Christmas cards and write meaningful letters to friends and family in place of a traditional gift this Advent. We especially love the Christmas Madonna and Child set.
6. Rosary
Rugged Rosaries
Rugged Rosaries are traditional Rosaries made with durable paracord (once used for parachute rope). They are great for your friends and family members who take their Rosaries with them everywhere they go. We love their limited edition Advent Christmas Rosary (pictured above), Saint Kateri Tekakwitha Turquoise Rosary, and the Spiritual Weapon Rosary.
West Coast Catholic
Inspired by the natural colors and landscapes of the West Coast, West Coast Catholic creates some of the most beautiful Rosaries! We especially love the Sea of Galilee Rosary, Immaculate Heart Rosary, and the Zion Rosary.
aromaRosary
Each aromaRosary comes with four blends of essential oils selected for each of the four mysteries. We especially love the Guadalupe Ornamental Rosary and the Fatima Rosary bracelet.
7. Advent Reflection
Advent Gospel Reflections from Word on Fire
Word on Fire's Advent Gospel Reflections is a perfect gift for any friend, neighbor, or family member. The book includes Gospel readings for each day of Advent, daily reflection from Bishop Barron, and space for journaling and answering the provided reflection questions.
8. Faith-based planner
Monk Manual's 90-Day Planner
The Monk Manual is a 90-day system for "peaceful being and purposeful doing." This planner is great for a friend or family member with a packed calendar or someone who loves intentional reflection.
Liturgical Calendar Year Planner from Blessed Is She
This Blessed Is She planner is always a favorite among many! This edition spans January 2022 – December 2022, and it's centered on the Litany of Trust, written by the Sisters of Life.
9. Catholic Jewelry
My Saint My Hero Benedictine Blessing Bracelet
My Saint My Hero bracelets are woven by hand around the world — you can read more about their beautiful mission to restore dignity and combat human trafficking through empowerment here. We recommend gifting a Benedictine Blessing Bracelet this season. There is also a Hallow x MSMH bracelet, which you can purchase here.
Saint & Stone
This Catholic jewelry brand crafts beautiful necklaces, bracelets, and earrings for every day. We especially love the Lost Causes Bracelet, the St. Benedict Protection Necklace, and the Pray Without Ceasing Necklace, though all of the Saint & Stone jewelry makes for a perfect gift this Christmas.
10. Gifts for the home
Psalm-based daily calendar from Ascension
We love this God's Daily Grace calendar from Ascension, featuring a psalm verse and prayer for each day of the year. This calendar is perfect for someone's desk or a kitchen counter.
The Catholic Card Game
The Catholic Card Game is like Apples to Apples, but it is Catholic-themed! It's perfect for someone who loves Catholic facts or games.
Corda Candles
All Corda candles are handmade with scent inspiration from the Saints. With candles inspired by St. Michael the Archangel (spices, sandalwood, incense) to St. Joan of Arc (French oak, lavender), there's something for everyone on your list!
Mary on the Mantel from Be A Heart
Mary on the Mantle reminds us of Mary's waiting for the baby Jesus to arrive. The Mary doll and accompanying materials are a perfect gift for families with children! Rather than gifting an "elf on the shelf," you can give this doll, book & activity kit this Advent.
---
We hope this Catholic gift list guides you in your Christmas shopping this season! Read more from Hallow by visiting our blog.