We can all feel "knotted" at times. Pray the Mary, Undoer of Knots Novena to help you get untangled.
Even the most tangled knots are loosened by His grace. And Mary, whose "yes" opened the door for God to undo the knot of the ancient disobedience, is the Mother who patiently and lovingly brings us to God, so that He can untangle the knots of our soul by His fatherly mercy.

Pope Francis (October 12, 2013)
What is the Mary, Undoer of Knots Novena?
We pray this novena when there are knots, tangles, and problems in our lives that we can't undo, untangle, or fix on our own. It could be a knot in your spiritual life, in your relationship, or perhaps for a knot in the life of someone close to you.
A Marian devotion
Throughout history, Mary has made herself known — meeting people in their doubt, pain, thanksgiving, and more — to guide them in faith and love. Sometimes, she physically appears to people; this is what we call a Marian apparition. Mary also often intercedes on someone's behalf and provides them with a prayer or calls on them to pray for a certain intention; this is what we call a Marian intercession.
Out of these two experiences with the Blessed Mother comes prayers to pray with her, called Marian devotions. Some of these devotions have been prayed for centuries! For example, the traditional Rosary and the 7 Sorrows Rosary are both Marian devotions.
Tradition holds that the Mary, Undoer of Knots Novena originated out of Marian intercession to a German couple on the brink of divorce. However, the theology and teaching behind this Marian devotion that asks the Blessed Mother to guide us to God and whose grace loosens the many knots in our lives, can be traced all the way back to the second century.
St. Irenaeus
In October of 2013, Pope Francis delivered a message on Mary's faith, quoting St. Irenaeus.
The knot of Eve's disobedience was untied by the obedience of Mary; what the virgin Eve bound by her unbelief, the Virgin Mary loosened by her faith.

St. Ireneaus
In the second century, St. Irenaeus was already speaking of Mary as the undoer of the original knot of disobedience in the Garden of Eden. And just as Mary's devotion to God (her constant "yes, Lord") untied Eve's knot, she continues to guide us to faith in the untying of our own knots, too.
Wolfgang & Sophie — a reconciled marriage
In the early seventeenth century, there was a German couple of nobility on the brink of divorce — Wolfgang Langenmantel and Sophie Imoff. With the hope of saving his marriage, Wolfgang decided to turn to Father Rem, a Jesuit priest at the University of Ingolstadt.
According to Richard Lenar, Wolfgang visited Fr. Rem several times to pray with the Virgin Mary. For their last visit, Wolfgang brought his wedding ribbon (a German tradition to physically symbolize the bride and groom's "tying together" at their marriage ceremony) to pray with Fr. Rem before a painting of the Virgin Mary.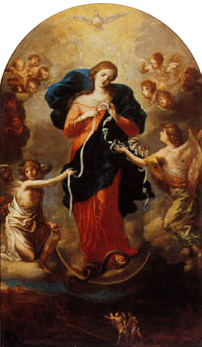 "In a solemn ritual act, Father Rem took Wolfgang's wedding ribbon and lifted it up, while at the same time untying the knots of the ribbon one by one. As Father Rem smoothed out the ribbon, it became intensely white. Because of this happening, Wolfgang and Sophie were able to avoid a divorce and continue their marriage." – Richard Lenar
Almost a century later, the Langenmantel family commissioned German artist Johann Melchior Georg Schmittdner to paint a scene for their family altar. He painted a beautiful portrait of Mary, untying the white ribbon of Wolfgang and Sophie's marriage. You can also see her foot atop a snake curled in knots, suppressing evil.
We can meditate on the image of Mary as she unties the knots in our lives — in our relationships with others and God and of anything else in our lives that might be a bit tangled.
Modern popularity
Pope Francis encountered the devotion via Schmittdner's painting in Germany, taking this prayer to the Virgin Mary back to Argentina. In his papacy, he has made this devotion even more popular in the Christian world. In May of 2021, Pope Francis called on Mary, Undoer of Knots, for her intercession at the end of the global Rosary to end the pandemic.
Tonight we gather before you, our Virgin Mother, venerated in this image as the one who unties knots. In fact, there are many knots that bind our lives and our activities. They are knots of selfishness and indifference, economic and social knots, knots of violence and war … We pray to you, Holy Mother, untie the knots that oppress us materially and spiritually, so that we may joyfully bear witness to your Son and our Lord, Jesus Christ.

Pope Francis (May 31, 2021)
We will pray this devotion to Our Lady, Undoer of Knots, as a novena for nine days straight on Hallow, leading up to the feast of the Assumption and led by Sr. Miriam James Heidland. The novena will remain on the app, and can be a prayer you turn to whenever you want to ask Mary for her intercession.
Why do we pray the Mary, Undoer of Knots novena?
You can pray this novena for any kind of knot in your life. No matter your intention for prayer, the Blessed Mother always intercedes on our behalf.
You, who know how to untie the knots of our existence, and know the desires of our hearts, come to our aid. We are certain that, as in Cana of Galilee, you will ensure that joy and celebration will return to our homes after this time of trial.

Pope Francis (May 31, 2021)
Pope Francis reminds us of Mary's intercession at the Wedding at Cana when she noticed that there was no more wine. In turn, Jesus performed his first miracle: turning water into wine. Just as Mary noticed this, she, too, notices the knots in our lives and desires to undo them.
When do we pray the Mary, Undoer of Knots novena?
You pray this novena whenever a knot in your life needs undoing with Mary's guidance and God's grace. However, this novena is commonly prayed around a Marian feast day.
How to Pray: Mary, Undoer of Knots Novena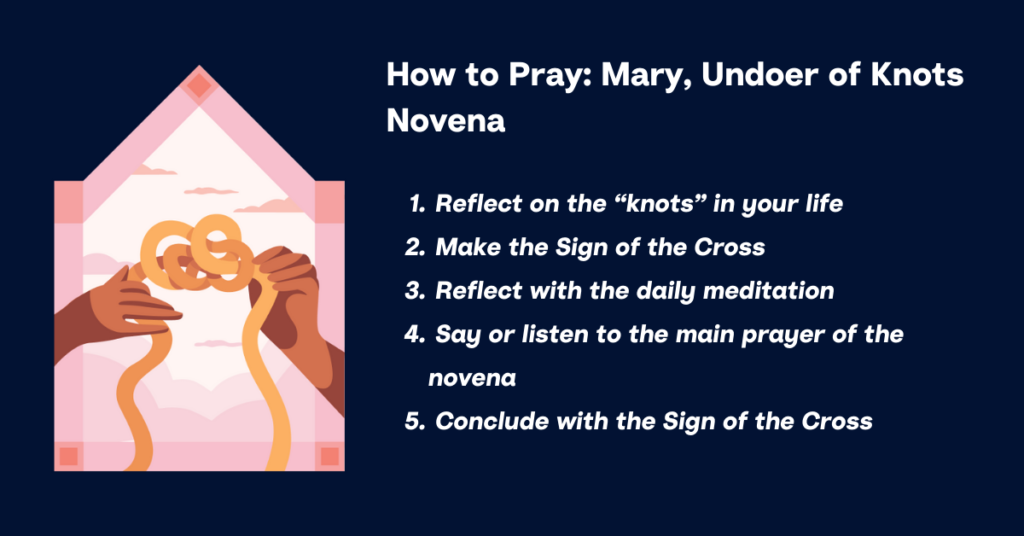 Reflect on the "knots" in your life
Consider the following questions before you begin this novena:
What is getting in the way of my growing closer to Jesus?
Is there a problem in my life I can't seem to fix?
How can I rely on Mary's ability to untangle the knots in my life and lead me to God's grace?
It might even be helpful to journal about the knots in your life. You could even draw a ribbon to visualize Mary undoing the knots in your life as you pray this novena.
Make the Sign of the Cross
In the name of the Father, the Son, and the Holy Spirit.
Reflect with the daily meditation
In this novena, we will pray with a different daily meditation each day on God's mercy, grace, and love. In Hallow, we will guide you to meditate peacefully on the undoing of the knots in your life.
The first day's meditation goes as follows:
Dearest Holy Mother, Most Holy Mary, you undo the knots that suffocate your children, extend your merciful hands to me. I entrust to You today this knot and all the negative consequences that it provokes in my life: (pause)
Mary, Undoer of Knots, pray for me.
Say or listen to the main prayer of the novena
Virgin Mary, Mother of fair love, Mother who never refuses to come to the aid of a child in need, Mother whose hands never cease to serve your beloved children because they are moved by the divine love and immense mercy that exists in your heart, cast your compassionate eyes upon me and see the snarl of knots that exist in my life.
You know very well how desperate I am, my pain and how I am bound by these knots.
Mary, Mother to whom God entrusted the undoing of the knots in the lives of His children, I entrust into your hands the ribbon of my life.
No one, not even the evil one himself, can take it away from your precious care. In your hands there is no knot that cannot be undone.
Powerful Mother, by your grace and intercessory power with Your Son and My Liberator, Jesus, take into your hands today this knot…I beg you to undo it for the glory of God, once for all, You are my hope.
O my Lady, you are the only consolation God gives me, the fortification of my feeble strength, the enrichment of my destitution and with Christ the freedom from my chains.
Hear my plea.
Keep me, guide me, protect me, o safe refuge!
Conclude with the Sign of the Cross
In the name of the Father, the Son, and the Holy Spirit.
---
This novena is one of our upcoming Community Challenges, and we couldn't be more excited to pray with you to untie the knots in our lives. In the meantime, you can pray the Surrender Novena, the 54 Day Novena, the St. Joseph Novena, and the Divine Mercy Novena and the Sacred Heart Novena with Jonathan Roumie, the actor who plays Jesus in The Chosen.
Related Prayers