St. Jude Thaddeus is often called the patron saint of "the impossible." Pray this novena, with Dr. Scott Hahn as your guide, during seasons of struggle, pain, and challenge in your life.
Judas (not Iscariot) said to him, 'Lord, how is it that you will reveal yourself to us, and not to the world?' Jesus answered him, 'Those who love me will keep my word, and my Father will love them, and we will come to them and make our home with them.'

John 14:22-23
Table of Contents
Who was St. Jude?
One of the twelve disciples
St. Jude is the patron saint of hopeless causes and desperate situations. He was one of Jesus's twelve disciples, though he is only quoted once in the Gospels (see above). While called Judas in the Gospel of John, he is known by Jude to avoid confusion with Judas Iscariot, who betrayed Jesus, as John points out in his Gospel.
St. Jude's medallion
Tradition holds that while Jesus was still alive, King Abgar of Edessa (modern-day Turkey) was sick with an incurable disease. He wrote Jesus a letter, asking for a miracle. Jesus responded to King Abgar that he would send one of his disciples to heal him. Then, Jesus impressed his face onto a cloth for St. Jude to transport to King Abgar. Upon receiving the cloth, King Abgar was healed. Today, St. Jude is often depicted with the same "image of Edessa" on a medallion around his neck.
Martyrdom & modern popularity
St. Jude continued ministering in Persia and was martyred in Persia alongside St. Simon. The two Saints share the same feast day (October 28th) and are buried together in the crypt beneath St. Peter's Basilica in Vatican City.
He was popularized in prayer for desperate causes in the late 18th century in western Europe. Nowadays, many know St. Jude as the namesake of children's research hospitals across the United States.
Why pray the St. Jude Novena?
We pray the St. Jude Novena to lead us in prayer for hope and strength during difficult times in our lives and in the lives of others. St. Jude sought to love the Lord through challenging times, so we strive to imitate this same unwavering faith.
When should we pray the St. Jude Novena?
The St. Jude Novena is commonly prayed in preparation for the Saint's feast day on October 28th. However, you can pray this novena during any season of struggle when you're in need of the Saint's comfort.
How to Pray the St. Jude Novena
On Hallow, we pray with the Pray More Novenas' version of the St. Jude novena.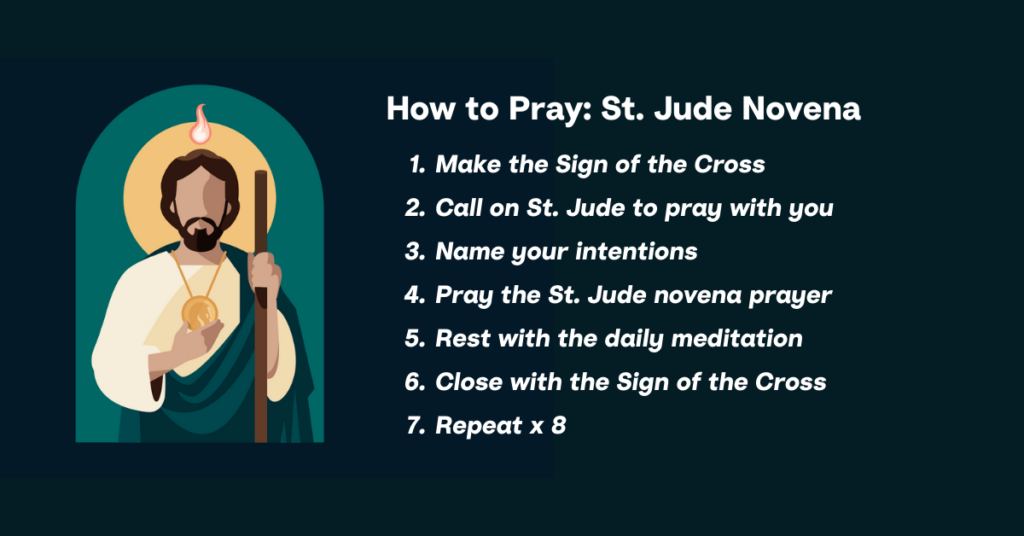 Across nine consecutive days 15 minutes

How to Pray the St. Jude Novena
Begin by making the sign of the cross

In the name of Father, and of the Son, and of the Holy Spirit, Amen.

Call on St. Jude to pray with you

"Most holy St. Jude – apostle, martyr, and friend of Jesus, today I ask that you pray for me and the intentions I now share …"

Name your intentions

Now, you call to mind or say aloud why you are praying this novena. You can choose one intention to pray with for the entire nine days, or you can name a different one each day of prayer.

Whether it is a physical, mental, or spiritual struggle you or a loved one endures, you can name these intentions of your heart in prayer.

Pray the St. Jude novena prayer

"St. Jude, you are the patron of the impossible. Pray for me and my intentions! O St. Jude, pray that God's grace and mercy will cover my intentions. Pray for the impossible if it is God's will.

Pray that I may have the grace to accept God's holy will even if it is painful and difficult for me."

Rest with the daily meditation

The daily meditation focuses on a different theme each day, including faith, sacrifice, and hope. The first day of the novena asks St. Jude to lead us in loving God: "St. Jude, you loved our Lord, help me to love Him more."

Close with the Sign of the Cross

In the name of Father, and of the Son, and of the Holy Spirit, Amen.

Repeat this prayer with St. Jude for eight more days to complete the novena.
---
You can pray the St. Jude Novena with Dr. Scott Hahn on Hallow. On behalf of the Hallow Team, we hope this novena supports you in praying through challenging times in your life.
Related Prayers