Join Fr. Mike on Hallow
Hallow is the #1 Catholic Meditation, Prayer, Sleep & Bible App. Sign up today and draw closer to God all year through Fr. Mike's Bible In A Year and Catechism in a Year!
Get Started For Free
"By far the best app on my phone."
"I really needed this. Works like a charm!"
"A huge gift for Christians of all stripes craving a more meaningful prayer practice."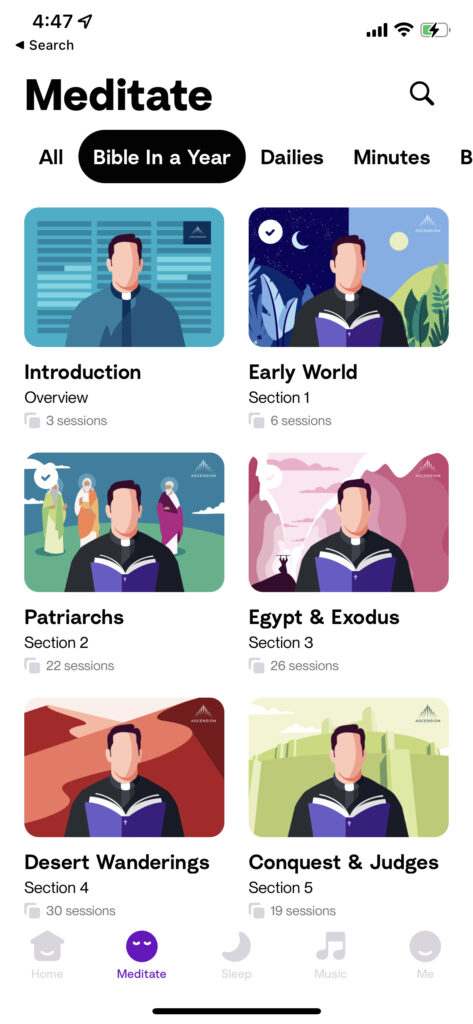 "This is my second time going through the Bible in a Year with Fr. Mike, and I'm learning more this year! I love it' God bless."
"Amazing free content, user-friendly interface. My favorite features are the Bible in a Year podcast (best 20 min/day investment ever) and the Daily Reflections by Jeff Cavins."
"My experience with Hallow so far has revolutionized my prayer life."
Features
Daily Gospel & Rosary
Meditate on the Church's Daily Gospel passage through Lectio Divina and pray through the daily mysteries of the Rosary with our audio guided sessions.
Praylists & Challenges
Pray with Night Prayer, reflect with Examen, meditate on the Litany of Humility, the Psalms, the Saints and many more.
5,000+ Unique Sessions
Build your own custom prayer plan across difference methods, lengths, guides, music, change & themes. Pray your own way.