Daily Prayer Table of Contents
Our habits matter.
Just as habits (good and bad) can impact our health, our career and our relationships with others, they can also affect our prayer life and our relationship with God.
And our relationship with God can impact everything.
The roots of daily prayer predate the Church itself. As Christianity Today points out, "The practice of daily, set prayer goes back to the Old Testament." Early Christians then emulated Jewish customs by praying each day. The Church has echoed the message of the importance of praying often for centuries.
More recently, Pope Francis spoke about the importance of daily prayer during one of his papal audiences in February 2021.
"It is in the present that we encounter Him, not yesterday or tomorrow, but today."
Prayer is transformative. Praying each day is one of the most important habits we can build.
And you can start with some very simple prayers.
Short Catholic Prayers for Today
Sometimes, our days don't always allow us the opportunity to carve out a long period of time devoted entirely to prayer.
Even if we prioritize God in our lives, sometimes we need a simple way to connect with our loving Creator, who is always happy to hear from us.
"God, help me navigate whatever challenges I encounter this day. Be my comfort and my rock. Guide me to do Your will and be an instrument of your peace today and each day. Amen."
"Heavenly Father, as I embark on this day, I ask for Your blessing. Help me feel near to You, with my eyes open to the ways that You are at work in my life. In Your name I pray. Amen."
"Sometimes, Father, in the midst of days like today, I can be overcome by things that I want or need. When I pause in moments like this, I know that You are what I truly need. Help me center my day on You. May I share the peace that provides me with those around me. Amen."
Common Prayers Said Daily
The first prayers that many Catholics and Christians learn are sometimes the ones we most often pray.
Daily prayer does not need to be complicated or complex. The simple words we learn as children can shape our prayer life each day.
As you offer up these prayers each day, be aware of not mindlessly reciting the words by rote. Pray the words, don't merely repeat them. These prayers are not long, but they are powerful.
Hail Mary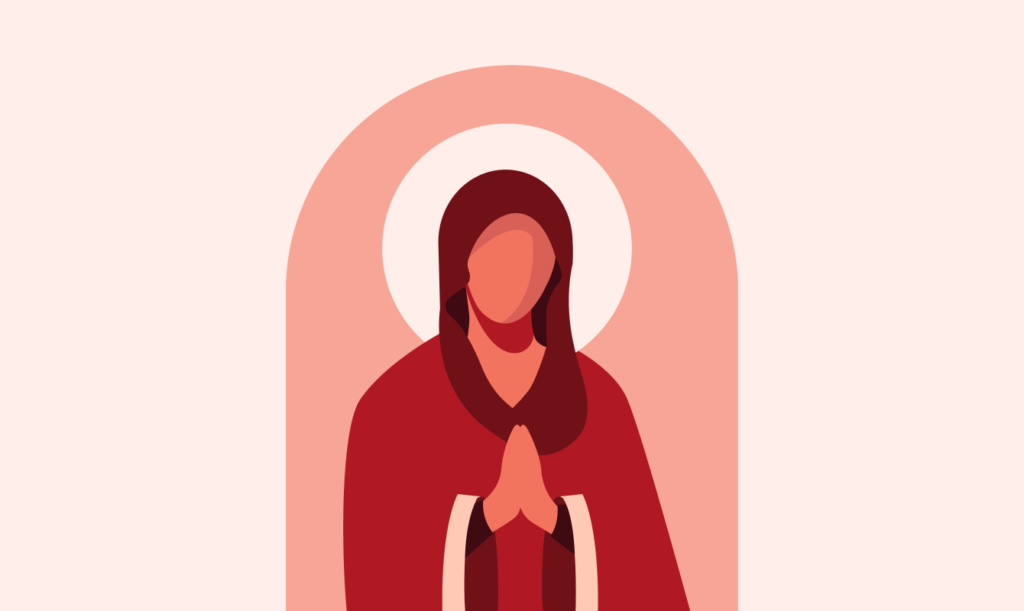 See Hallow's complete guide to the Hail Mary.
Lord's Prayer / Our Father
See Hallow's full guide to the Lord's Prayer.
Glory Be
Prayers to the Holy Spirit
Come, Holy Spirit (repeated)
See Hallow's full guide to Holy Spirit prayers.
Daily Prayer Traditions in Catholic Faith
The Catholic faith is also rich in daily prayer traditions that transcend a single prayer.
For centuries, these forms of prayer have unified Catholics in prayer and brought millions of people closer to God.
Perhaps the most beautiful aspect of these different forms of prayer is their diversity. Some are shot; some are more involved. Some are very structured while some are more open ended.
Learn more about these various prayer customs and prayerfully consider which you might be called to exploe.
Liturgy of the Hours
Sometimes referred to as Divine Office, Liturgy of the Hours structures a day in prayer. Based in Scripture, Liturgy of the Hours includes a very specific format of prayers for certain times of the day, including:
Daytime Prayer
Evening Prayer
Priests, brothers, deacons and those in formation to enter religious life are all required to recite the Liturgy of the Hours each day. Many lay people join them. If you pray the Liturgy of the Hours, you'll be in good company!
Learn more from Hallow's guide on praying the Liturgy of the Hours at night.
Daily Examen
Examination is a ritual that dates back to the early doctors of the Church. St. Ignatius further popularized it in the 16th century, in his Spiritual Exercises and it remains a popular way to spend time in prayer.
The examen (also called "examination of consciousness") in Ignatian spirituality guides us through our day, processing everything we did, all the conversations we had, and how we felt.
As we reflect on the day, it can become clear where God is at work, where He is leading us or challenging us, as well as where we might have missed the mark.
Check out Hallow's full guide for praying the Daily Examen
The Rosary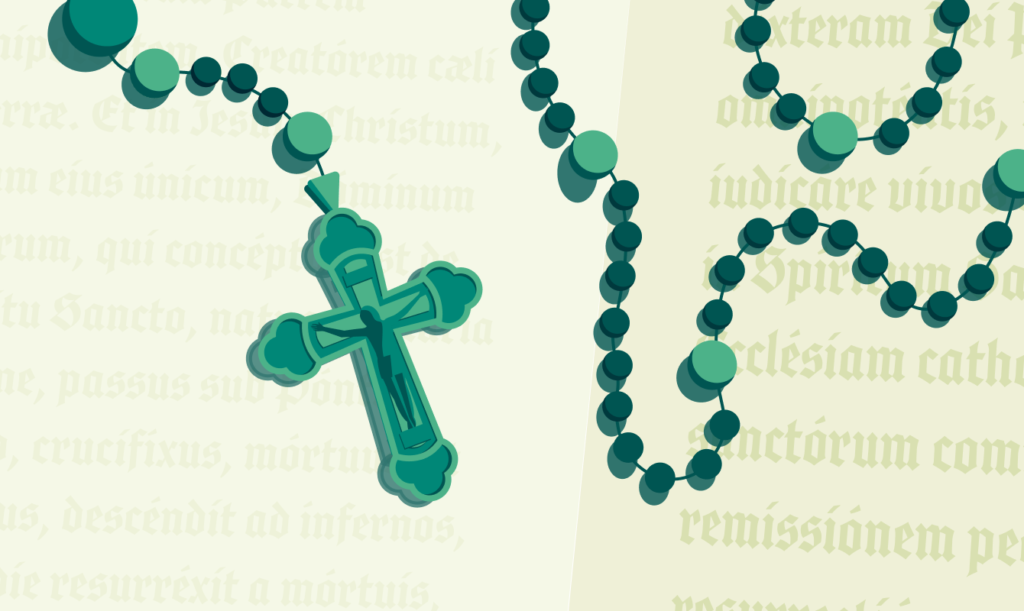 Perhaps the most well-known Catholic daily prayer tradition is the Rosary.
The Rosary is not a prayer in and of itself; rather, it's a series of prayers repeated around the structure of a pair of Rosary beads. It includes the Apostle's Creed, Our Father, Hail Mary and Glory Be.
The Rosary can be prayed once a week, once a day or multiple times a day. Hallow makes it easy with our step-by-step guide on how to pray the Rosary.
Novenas
Novenas are nine-day series of prayer, rooted in the period of time that Mary and the disciples prayed together before the Holy Spirit came down on them (Acts 2:1).
Often centered on a particular intention, novenas help us draw closer to God, sometimes through the intercession of a particular saint.
The St. Jude Novena, St. Andrew's Christmas Novena and 54-Day Novena are all popular examples of this form of prayer.
Learn more with Hallow's full guide to novenas.
Daily Prayer Inspired by Saints
We recognize many saints throughout the liturgical year, and on November 1, we celebrate them all with All Saints Day.
Learning about the saints can inspire us to be more holy. It can remind us that we don't need to make big, sweeping displays of our faith, nor must we be perfect every day.
Saints were human and experienced many of the same feelings and struggles as we do. You probably know some of the more popular saints, but there are many lesser-known saints whose stories are equally inspiring.
The Vatican features a Saint of the Day, and other websites offer the same. The Hallow app offers a Daily Saint section that features a short biography of a saint, followed by meditation and prayer based on that saint.
See Hallow's full guide on praying with saints.
Praying With Scripture Each Day
Just as spending time with the saints each day can enrich our prayer life, so too can reading passages from the Bible.
When we attend Mass on Sunday, we hear three readings from Scripture. Those don't have to be the only three pieces of Scripture we take in each week!
The USCCB publishes the daily Mass readings on its site each day. Even if you don't attend daily Mass, you can reflect on the Bible passages (on most weekdays, there are only two.)
You don't need to feel pressured to read chapter after chapter, like a normal book. With the practice of Lectio Divina, you can be moved by a single phrase or word.
Enjoy today's Daily Gospel below. It's also available inside of the Hallow app, but we've embedded it here for you to try:
There is, however, something special about reading the entire Bible.
Praying with Bible in a Year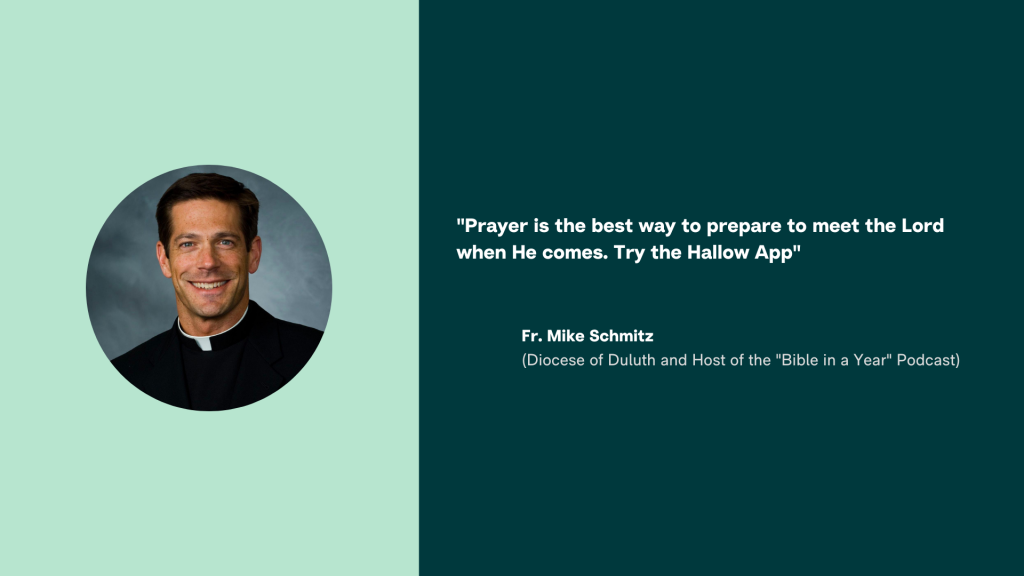 Fr. Mike Schmitz's work with the Bible in a Year podcast through Ascension Press has been nothing short of amazing.
Bible in a Year, also available inside of the Hallow app, is one of the top rated and most downloaded podcasts in the world.
Each day, Fr. Mike reads pieces of Scripture before praying with them and offering an explanation of the passages and sharing other insights.
You don't need to start Bible in a Year on January 1. Learn more about Bible in a Year and consider starting your journey with the Bible today.
Daily Prayer During Lent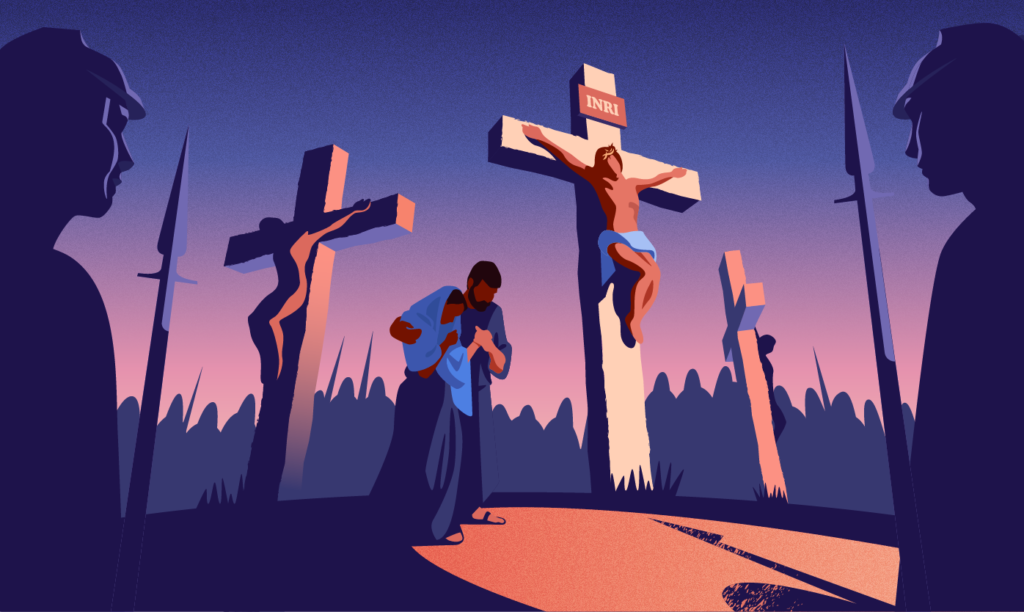 There's never a bad time to begin praying each day, but Lent is among the best and most popular times when people devote time to prayer on a daily basis. In fact, Google Trends tells us that people looking for daily prayer peaks ahead of Ash Wednesday.
For many, daily prayer is a way to satisfy the question of what to give up for Lent.
Prayer is one of the three pillars of Lent, along with fasting and almsgiving, so dedicating oneself to more consistent prayer is a great way to observe Lent. It helps us remember our reliance on God, our need for His forgiveness and His endless mercy.
Many churches will launch prayer groups during Lent, perhaps focused on a particular book or Scripture. There are always simple Lent prayers you can return to on busy days leading up to Easter.
More Resources to Pray Today